MIKE AND KAJSA VALA RELEASES NEW SINGLE
Two of Denmarks hottest names in roots-music, Kajsa Vala and Mike Andersen, team up on this brand new soulful and bluesy pop song, FLY FREE.
Kajsa and Mike wrote this song together in just a few hours, on a random afternoon. Both artists have been based in Aarhus, Denmark most of their lives, and have known each other for decades through the local music scene. Making music together though, is a fairly new thing for Kajsa and Mike.
The song was recorded in a local studio in their hometown.
Kajsa and Mike laid down their vocals and guitarparts simultaneously in a live-take. This is the 'take' you see in the official music video
Kajsa then took down the studio's bass from the wall, and after that got behind the drums.
At last, they both grabbed an electric guitar and added the guitar solos and the guitar-chase that closes the song.
Just like the writing process, -this all took but a few hours.
Sometimes the music writes and plays itself…FLY FREE was one of those songs!
Kajsa Vala: vocal/guitar/bass/drums
Mike Andersen: vocal/guitar
Words&Music: Andersen/Vala
Recorded at FEEDBACK Recording by Magnus Vad
Mix/Master: Tor Bach Kristensen
Photo/Video: Rasmus Bundgaard
---
MIKE ANDERSEN BAND TOUR – NOV/DEC 2023

Billetter: https://tix.to/mikeandersen
MIKE ANDERSEN BAND har i ti år været et fem-mands band, -men bandets mange årige pianist har grundet travlhed med andre ting måtte forlade bandet.
Derfor har Mike Andersen, Jens Kristian Dam, Johannes Nørrelykke og Kristian Kold været intensivt i øvelokalet op til denne kommende turné, og 'genopfundet' sig selv, som kvartet.
Du kan derfor forvente et Mike Andersen Band med en 'ny' lyd og en bunke helt nyskrevne sange, samt selvfølgelig sange fra bagkataloget og den energi, nerve og nærvær du kender fra en MIKE ANDERSEN BAND-koncert.
Mike Andersen – vokal/guitar
Johannes Nørrelykke – guitar/vokal
Kristian Kold – Bas
Jens Kristian Dam – trommer
---
AKUSTISK SOLO TOUR – SEPT/OKT 2023
Mike Andersen har altid været kendt for at stå i front af sit powerfulde Mike Andersen Band.Efter det DMA-vindende akustiske solo album, One Million Miles, er netop de akustiske solo koncerter blevet nogle af hans mest populære koncerter. I September og oktober tager han på solo tour i Danmark. Han går alene på scenen med sine sange, sine guitarer og sine personlige fortællinger.. leveret med nerve, humor og nærvær.
'Det kræver mod – foruden gode sange – at skrælle alt overflødigt væk. Nogle gange vælter korthuset. Andre gange viser det sig at stå yderst solidt. I Mike Andersens tilfælde er sidstnævnte tilfældet, og han får med al tydelighed cementeret, at han også mestrer solo formatet' -Simon Staun, Fyens Stiftstidende
Tourplan/billetsalgs-links: www.mikeandersen.com/tour-plan
Her kan du få en smagsprøve på, hvad du har at se frem til, med dette klip fra Mike Andersens Kosmorama Sessions
---
---
DUC DES LOMBARDS IN PARIS THIS WEEKEND
BluesMagazine wrote this article, when the band and I played the Jazz Club Etoile Paris back in December.This coming weekend I play four acoustic shows at Duc Des Lombards in the heart of Paris. I will be joined on stage by the phenomenal Laurent Vernerey on upright bass and my frind and amazing piano player, Johan Dalgaard.We're really looking forward to this…come join us!
Tickets: https://ducdeslombards.com/fr/l-agenda/mike-andersen
---
PODCAST INTERVIEW / PARIS SHOW IN APRIL
I had a nice talk with French Perfecto Music. https://www.perfectomusic.fr/…/interview-mike-andersen…
I will be coming back to Paris on April 7+8., to play four Solo/Acoustic shows at Le Duc des Lombards with two special guests, – Johan Dalgaard on piano and Laurent Vernerey on upright bass.
Tickets: https://ducdeslombards.com/fr/l-agenda/mike-andersen
---
KATRINE SCHMIDT FEAT. MIKE ANDERSEN
Late one night a while ago, an awesome singer and songwriter, Katrine Schmidt, sent me a demo of a song she wrote with her pianoplayer, Johannes Aaen Jensen.The song immediately 'spoke' to me, -and I felt honored when Katrine told me it was a duet, and asked if I would sing it with her.We went into the studio a few weeks ago, and recorded this LIVE-version of the song.
---
LIVE ON TSF JAZZ RADIO
Recently I guested Jean-Jaques Milteau and Johan Dalgaard's radio show 'Bon Temps Rouler' at TSF JAZZ Radio's headquater in the heart of Paris. We spoke for and hour and a half, listened to some amazing music, -and I played four songs live and acoustic right there in the radio studioI already knew that Johan is a world class piano player, and I was thrilled that he joined me on two songs – and both Johan and I were excited when Jean-Jacques pulled out his harmonica and joined us as well.
You can hear the Radio Show as a podcast on TSF's website:
https://www.tsfjazz.com/…/bon-temps…/2022-12-14/19-00
Thank you Jean-Jacques and Johan for having me!
---
SOUL BAG MAGAZINE
Proud and honored to be featured in latest issue of SOUL BAG MAGAZINE
---
'RAISE YOUR HAND' NOW AVAILABLE IN FRANCE
So happy to annonce that the RAISE YOUR HAND album will be officially released in France on October 28. 2022. Supercool Baco Music will make sure the album is available in the French record stores. Bureau de Sophie Louvet will make sure you read and hear about in the French media, and my French agency, On The Road Again, has, besides sending us to several cool festivals in beautiful France this summer, booked a band show at the legendary Jazz Club Etoile in Paris Dec 15.A big shoutout Johan Dalgaard for helping putting this rad team together, to TSF JAZZ Radio in Paris, who supports this release by giving the album a lot of attention, and to Soul Bag mag for doing the same! I hope this is all the beginning of playing more shows in one of my favorite countries
---
DECEMBER BAND TOUR
Jeg har altid følt mig heldig og stolt over de musikere der har spillet med i Mike Andersen Band.
Bandet har i sin nuværende form eksisteret i mere end ti år.
Vi har sammen rejst rundt i det meste af Europa, og spillet hundredevis koncerter.
Hver eneste gang vi går på scenen, elsker jeg at være en del af den lyd vi sammen har bygget op!
Til dette års 'Danish Music Awards – Blues' kunne vi tage hjem med hele to statuetter (Årets Livenavn & Årets Udgivelse), og det vil vi gøre vores yderste for at leve op til når vi rammer syv danske byer i december.
Håber vi ses!
KH Mike Andersen Band
Billetter: https://tix.to/mikeandersen
---
TO DANISH MUSIC AWARDS – TAK!
'LIVEPRISEN'
Jeg har altid set mig selv som en 'spillemand', så en livepris varmer virkelig mit hjerte.
Først og fremmest tak til de mennesker der kommer og ser koncerterne! I løbet af Corona nedlukningerne, gik det for alvor op for mig, hvor stor og vital en del af mit liv det er, at spille og synge for et publikum.
Det gik op for mig at jeg bliver skør af ikke at gøre det.
Jeg deler i dén grad æren for denne pris med bandet: Jens Kristian Dam, Kristian Kold, Johannes Nørrelykke og Kristian Fogh, -samt Rune Duelund der laver lyd, Bjarne Rask der kører bussen og sørger for guitarer og amps er top tunede, og vores booking bureau, fmk.NU.

'ÅRETS DANSKE BLUESUDGIVELSE'
Bluesmusikken er mit fundament. Jeg ELSKER den. Men som musiker og menneske forløses jeg bedst når jeg lader mig inspirere af alt hvad der rører mig – og lader det flyde frit.
Derfor gør det mig glad at være med i denne kategori
På vegne af bandet og mig selv, vil jeg sige tak Mikkel Bøggild som har optaget, -Russell Elevado der har mixet, Brian Mørk Hansen der har mastereret, Rasmus Bundgaard der har taget billederne og Lars Hedemann der har lavet artwork.
Og ikke mindst tak til alle jer, der har taget så godt imod dette album. Det betyder meget for os!
Tak til Juryerne, TEMPI, ROSA og JazzDanmark.
Tillykke til alle nominerede. Det var stærke felter at være med i.
Også stor tak til min familie for tålmodighed og opbakning til mit skøre sigøjnerliv!
KH Mike
---
DU KAN STEMME PÅ OS TIL DMA ROOTS
Er nomineret til en DMA ROOTS for ÅRETS LIVENAVN 2022. Det er publikum der afgør denne kategori, og alle kan stemme.
Link til afstemning:
---
TAK, POVL DISSING!
Visse minder fylder mere end andre, og dét her er jeg særligt taknemmelig for🙏
Povl var så sød og nærværende, og jeg gjorde hvad jeg kunne for at finde roen, selvom jeg var begejstret som en lille dreng, og lidt nervøs samtidig!
Povl Dissing forenede på smuk og poetisk vis alt jeg elsker ved musik, og står for mig som et lysende fyrtårn, der opfordrer os alle til at lyde som os selv.
Povl Dissing, -DU lød som ingen andre, og du lød altid fuldstændig MAGISK for mig!
Tak!
Kh Mike
🎬: Ulf Olsen / DR's Koncertsal – Sept 2012
---
---
REVIEW FROM SOUL BAG MAGAZINE (France)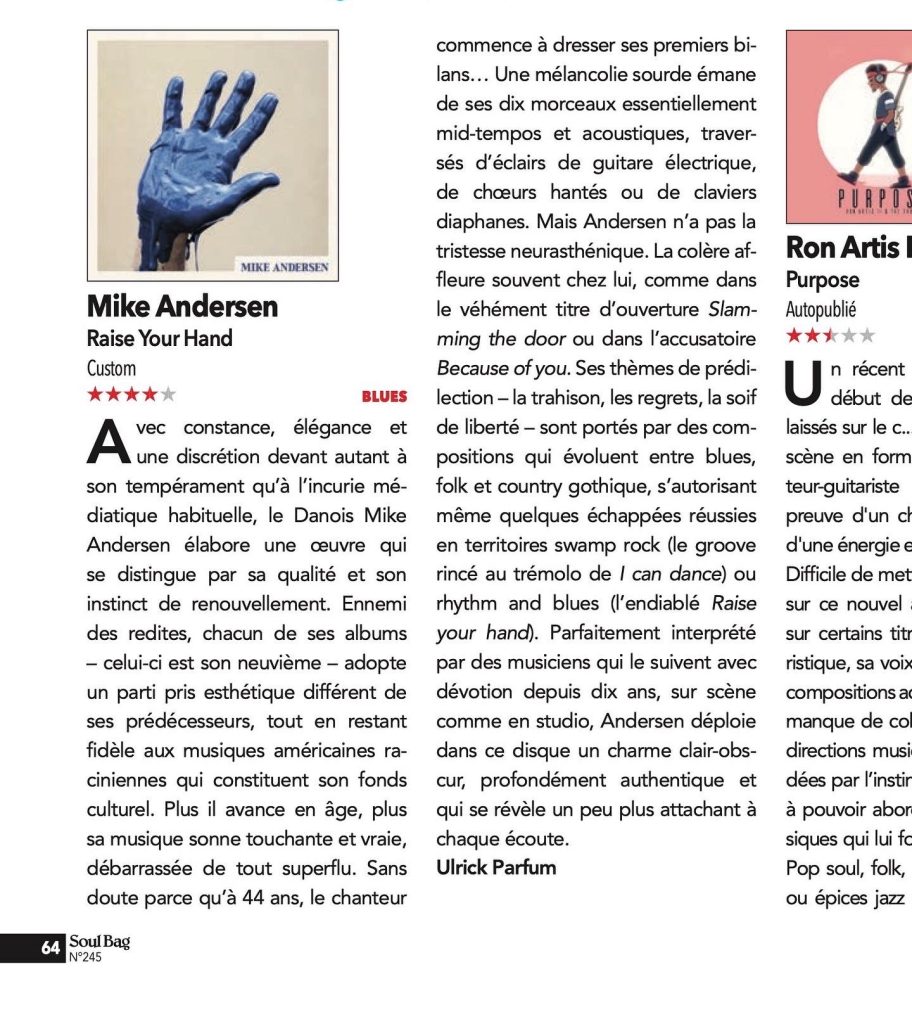 Review (freely) translated into english:
"With consistency, elegance and a discretion owing both to his temperament and a certain negligence towards the media, the Dane Mike Andersen is creating a body of work that is distinguished by its quality and his instinct for renewal. Never wanting to repeat himself, each of his albums – this one is his 9th – adopts an aesthetic different from its predecessors, while remaining faithful to the American roots music which constitutes its cultural main ground.
The older he gets, the more touching and true his music sounds, stripped of any superfluous elements. Undoubtedly because at 44 years old, the singer is beginning to take stock of his life and career… A soft melancholy emanates from these ten mostly mid-tempo and acoustic pieces, mixed with lightning bolts of electric guitar, haunted choirs or translucid keyboards. But Andersen doesn't doesn't suffer from neurasthenic sadness. Anger often arises in him, as in the vehement opening title, Slamming the Door, or in the accusatory Because of you. His favorite themes – betrayal, regret, thirst for freedom – are carried by compositions that evolve halfway between blues, folk and dark country, allowing themselves a few successful escapes into swamp rock territories (the tremolo-drenched groove of I can dance) or rhythm & blues (the frenzied Raise your hand).
Perfectly performed by musicians who have followed him with devotion for 10 years, both on stage and in the studio, this album displays a chiaroscuro, deeply authentic charm, and turns out a little more endearing with each listen."
---
NEW ALBUM, 'RAISE YOUR HAND', OUT NOW!
The band and I (and a lot of other amazing people) put our hearts and souls into this album.
We are so excited to finally share with you all!
Love, M
Buy LP/CD: https://imusic.dk/exp…/14150/mike-andersen-raise-your-hand
DIGITAL: https://mikeandersen.lnk.to/Hand
---
PRE-ORDER SIGNED LP/CD
Pre-order your signed copy of 'Raise Your Hand' now.
ODER HERE (worldwide shipping):
https://imusic.dk/exp…/14150/mike-andersen-raise-your-hand
Mike Andersen opens up his 9th album with a bang: an autobiographical song, 'Slamming The Door'. A humorous piece about being aware of what kind of person you want to become, both in music and in life before you actually end up slamming a door you should have left open.
"I've been writing sad songs for so long, and then it struck me: The only way to survive emotionally in these turbulent times is to embrace the chaos we've been thrown into and accept the fact that, Yes, we all get messed up sometimes but that's ok. We can face this together."
It was out of this, that the title song 'Raise your Hand' was born. The sound of this song is different from the rest of the album, being more old school with upright bass and horns – it's different from we've been accustomed to hearing from Mike and the band.
The rest of the album moves effortlessly through the myriad of genres we know from earlier Mike Andersen Band albums: A personal mix of the blues and soul music Mike fell in love with at an early age, but without the tyranny of "genre dogma". Mike and the band demonstrate increasing inspiration from today's music.
With these 10 new original songs, Mike Andersen (at the ripe age of 44) takes us through the life stories of a man who has made it halfway.
From the tale of a guy who is so beaten by life's hardships, that he fears he may not be able to get up again after another bout; to a song about those days when good energy streams through our bodies and makes even the most hopeless dancer jump on the dance floor and dance like he's never done anything else.
From the paradox of a coffee date at midnight to magical moments when we break free from our worries and concerns to the "murder ballad" of a man who fantasizes about emptying both barrels of a shotgun into the man his loved one betrayed him with.
Mike Andersen, in combining his characteristic voice and intense guitar phrasing with, and not the least, the fantastic band he's had on the road for more than ten years, has created an album of natural practiced elegance. To capture such raw emotion and authenticity, the album was recorded 'live in the studio' on analog tape.

'Raise Your Hand' entered the Danish Vinyl Top40 in it's first week as #12. It's has stayed in the chart for four weeks now, and is currently #9.
---
FINALLY FREE – OUT NOW
Hear the song:https://MikeAndersen.lnk.to/Free
4th and last single before ALBUM RELEASE (Sept 19.)
I co-wrote this song with my buddy, the guitar legend, Billy Cross. Billy said to me at some point, with a gleam in his eye: "Mike, you know, it's actually possible to write songs about other stuff than sad love and depression". I told Billy, "well…you gotta help me write one then."Same afternoon we wrote this song together. The song is about letting go off all worries, even if it's only for a while, and allowing yourself to feel FREE!
Billy plays the slide guitar on the recording.
Check out the song, and have an amazing weekend everyone!
---
KOMMENDE SOLO KONCERTER
Jeg spiller en række solo koncerter den næste tid, og jeg håber at se jer derude!
Kh M
---
DEUTSCHLANDFUNK RADIO SHOW
Friday night, radiohost Tim Schauen, aired an hour long solo "radio concert" I recorded all alone in my homestudio for Deutschlandfunk. The recording/radioshow will be available for a moth from this link!
https://www.deutschlandfunk.de/zu-hause-aufgenommen-der-daenische-musiker-mike-andersen.1173.de.html?dram:article_id=498132
---
NEW SINGLE OUT NOW
Today we release third single (and title track) from our upcoming album, RAISE YOUR HAND.

Link to the song: https://MikeAndersen.lnk.to/Raise
I been writing so many sad songs lately, reflecting the difficulties we're all experiencing these days, until I realized: The best way to survive this emotionally, is to embrace the chaos!
And hey…we're in this together!
So if you recognize yourself anywhere in this song…let me see you RAISE YOUR HAND!
We went real old-school on this one…I hope you dig it, and turn up the volume!
Enjoy Your friday!
-M
---
NEXT TIME YOU CALL – LIVE SESSION
Next Friday we're releasing the title song from our upcoming album, RAISE YOUR HAND!

Until then we hope you'll enjoy this stripped down first-take version Johannes and I did of Next Time You Call at our recent live session at Port Practice

sound: @mikkel_carlsen
Video: @rasbund / WHBNTP
---
SIXTEEN TONS – WITH JOSS STONE
Back in 2016 I had the pleasure of spending some time with the amazing Joss Stone on a sunny day in Copenhagen.
On Joss' Total World Tour, she met with an artist in each country and sang a song in that country's language.
I was fortunate to be that artist, when Joss' tour brought her to Denmark.
Joss Stone is the sweetest and warmest woman you can imagine, and of course, as you all know, an absolutely amazing singer.
I still remember the goosebumps I got, sitting this close to her voice!
---
SLAMMING THE DOOR – LIVE SESSION
WARM UP!
In three weeks from now, we're releasing the title-song from our upcoming album, RAISE YOUR HAND! ..and hopefully we'll soon be back the road
To warm up, we recorded a live session with first-take versions of the two previous singles, and of course the upcoming ´Raise Your Hand'.
We'll post one song every friday until the single release, starting today with 'SLAMMING THE DOOR'.
ENJOY YOUR WEEKEND EVERYONE AND SEE YOU SOON!
WE MISS YOU!
-M
Recorded at Port Practice Productions
sound: Carl Mikkel Rosengaard Carlsen
Video: Rasmus Bundgaard/WHBNTP
---
NEW MUSIC VIDEO OUT NOW!
Check out the brand new music video for SLAMMING THE DOOR created by Lasse Frisk!
---
NEW SINGLE OUT!
Available on all streaming platforms: https://mikeandersen.lnk.to/Door
---
TOURPLAN UPDATED
---
LIVE AT LAHNSTEIN STADTHALLE
SWR1 filmed our concert at the 40. Lahnsteiner Bluesfestival. The show is now available on YouTube.
---
LIVE AT THE BEAUTIFUL VICTORIATEATERN
---
BACK ON THE ROAD
We're so happy to be back on the road doing what we love, -playing live music for real people!
Dates/Tickest: www.mikeandersen.com/tour-plan
Hope to see you out there!
Peace!
-Mike Andersen Band
---
TAK FOR DMA PRISEN

Tak for 'fuglen' og anerkendelsen!
Tak til Ester Brohus for de pæne ord, og for at komme og synge med mig!
Tak til Gustaf Ljunggren og Casper Simonsen for at spille med mig!
…Og ikke mindst TAK til ROSA og Værket i Randers for at lave en aften med rigtig livemusik og rigtige mennesker på et rigtigt spillested!
Om en uge starter jeg en tour i Danmark med bandet!
Jeg håber vi ses derude!!
KH Mike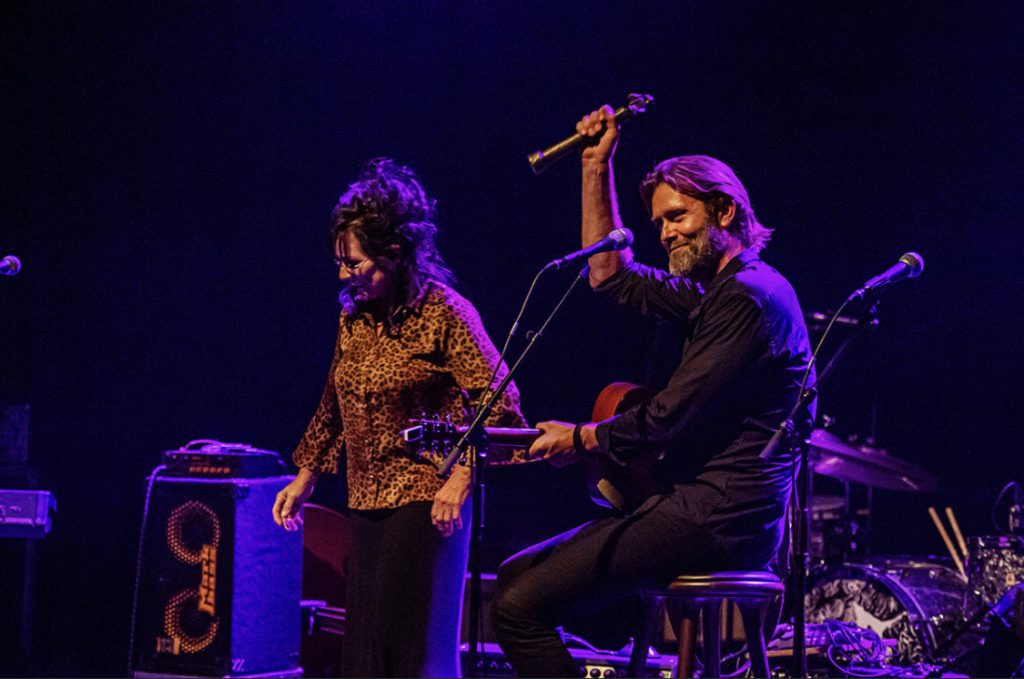 ---
DK TOUR 2020/2021

Den næste tid turnerer vi flittigt i Danmark!
Vi håber at se jer derude!
KH
-Mike Andersen Band
Komplet tourplan og links til billetsalg på:
www.mikeandersen.com/tour-plan
---
SOLO KONCERT I SVENDBORG
SVENDBORG har noget så usædvanligt i disse tider som en FESTIVAL: 5700 Summer !!!
På tirsdag spiller jeg en solo koncert i Krøyers Have kl 16.00
Jeg håber vi ses!
-M
Billetter: https://www.billet.dk/…/mike-andersen-solo-kroyers-have-202…?
Photo: Mads Sabroe
---
GO GO BERLIN COVER
Signe Svendsen udfordrede mig forleden til at være med i hendes "rundesang".
Udfordringen hed: "…upload en coverversion af en sang du har haft på hjernen". I dag opfordrede Kajsa Vala mig til at poste en "hjemmecover".
Hvis ikke jeg lægger noget ud nu, så hænger jeg på at være en kylling i de to power kvinders øjne på den anden side af denne surrealistiske tid. Det går ikke!
Her er mit akustiske one-man take på en sang af et af min bys absolutte stærkeste rock bands @gogoberlin !
Tak for lån af sangen!
---
ACOUSTIC ONE-MAN-VERSION
Did you check out our latest single?
Next Time You Call is available on all digital platforms https://mikeandersen.lnk.to/Time
Today I made an acoustic one-man version of the song in my home studio.
This is where I spend most of my time these days, and this is also where I wrote the song.
I hope you like it!
-Mike
---
SINGLE OUT NOW!
Single OUT NOW on all digital platforms!
Link:
https://mikeandersen.lnk.to/Time
Looking forward to seeing you all on the other side of these surreal times!
Stay safe out there!
Peace, Mike
---
SPEICHER HUSUM – CANCELLED
Our show at the Speicher in Husum(DE) is unfortunately cancelled due to Coronavirus.
But we'll be back!
Tickets can be returned for a refund where originally purchased.
See you soon!
-Mike Andersen Band
---
NYE DATOER PGA COVID-19
---
NYE DATOER PGA COVID-19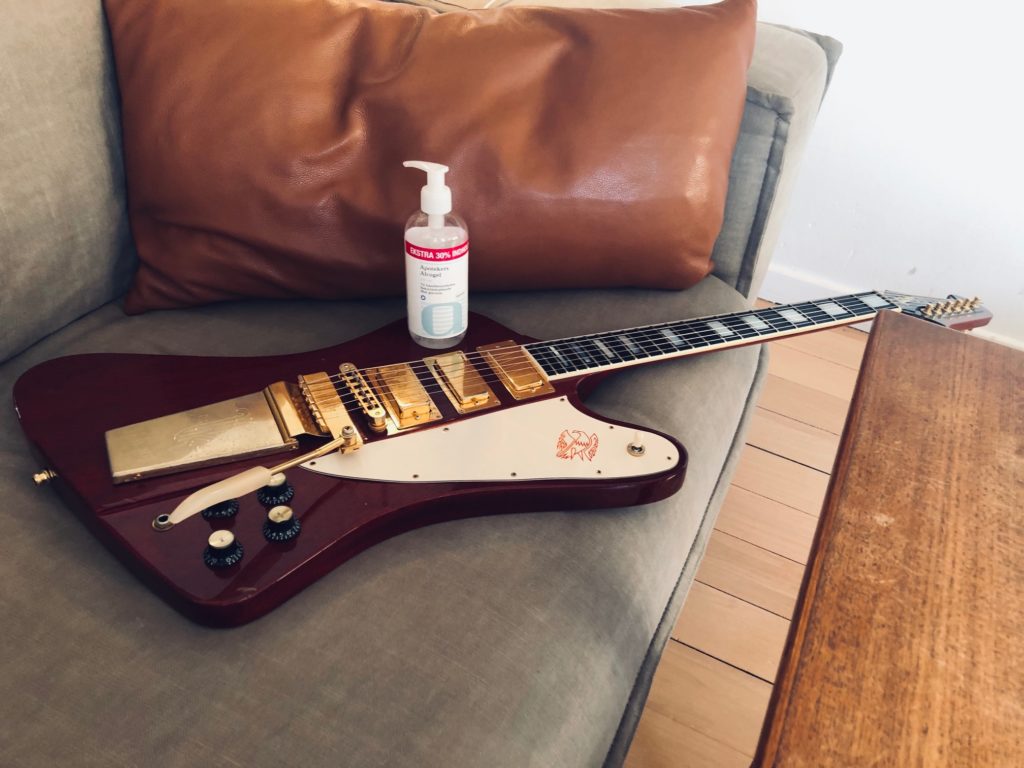 Bandet og jeg havde virkelig glædet os til at starte vores DK Tour i morgen!
Vi blir naturligvis hjemme! Vi skal passe på hinanden!
Vores seje booking firma fmk.nu knokler i samarbejde med arrangørerne for at finde nye datoer til de koncerter som er berørt af Coronavirus situationen.
Koncerten i morgen i Hinnerup flyttes til 11/6. Folk med billetter bedes kontakte spillestedet!
Vi holder jer opdaterede her på hjemmesiden, på Instagram og på Facebook.
Tak for forståelsen, …og pas på jer selv og HINANDEN!
Vi ses!
Kh Mike Andersen Band!
---
NEW SINGLE OUT NOW!
'NEXT TIME YOU CALL'
Listen to the song here: https://MikeAndersen.lnk.to/Time
After focusing on the acoustic solo album, ONE MILLION MILES, and touring heavily as a solo artist throughout 2019, Mike Andersen
is now back with his band.
A full album is scheduled for release in October 2020.
---
NEW SINGLE OUT NEXT FRIDAY!
---
INDSTILLET TIL GAFFA PRISEN
Er lige blevet gjort opmærksom på, at jeg er indstillet til Gaffa prisen i følgende kategorier:
Årets danske sangskriverÅrets danske solist
Der er mange om budet, og det er jer som bestemmer hvem der skal endeligt nomineres. Gå ind via dette link, og sæt en stemme der hvor I mener den bør sættes:

https://gaffa.dk/nyhed/141140/afstemningen-til-gaffa-prisen-2020-er-i-gang/
---
VIDEO FROM BACAU, ROMANIA
In August 2019 I had my third trip to Romania.
It was around the release of my acoustic album, One Million Miles, and I played three solo concerts in Romania, arranged by my friend, Andrei Popa / European Blues Radio
This video is from my night at the Snobbish Burger in Bacau.
Snobbish Burger is of the coolest and coziest places I've ever been at. A mix of art, music, quality food, and the warmest people you'll ever find, make this place truly unique!
I hope I get the chance to come back!
-Mike
---
ÅRETS BEDSTE VINYLER, IFØLGE SIDE 33
Tak til Side 33 for at placere ONE MILLION MILES på deres liste over årets bedste vinyl ugivelser?
---
CHUCK BERRY TRIBUTE
Glæder mig til det her!
Sammen med et skønt hold af solister og et fedt band, skal jeg være med til at hylde CHUCK BERRY!
Håber vi ses til en af koncerterne i januar/februar!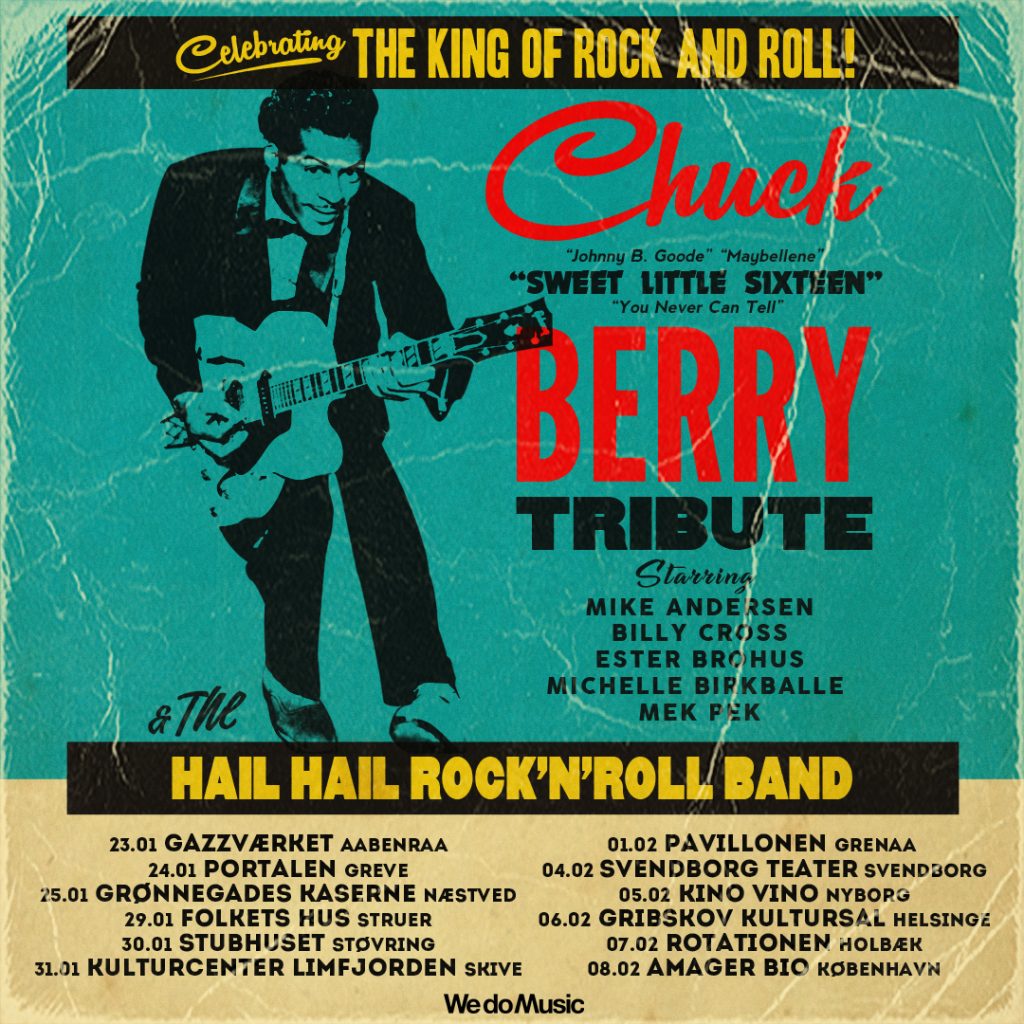 KH M
Billetter:
http://gig.to/chuckberrytribute
---
SAXONY SOLO TOUR COMING UP!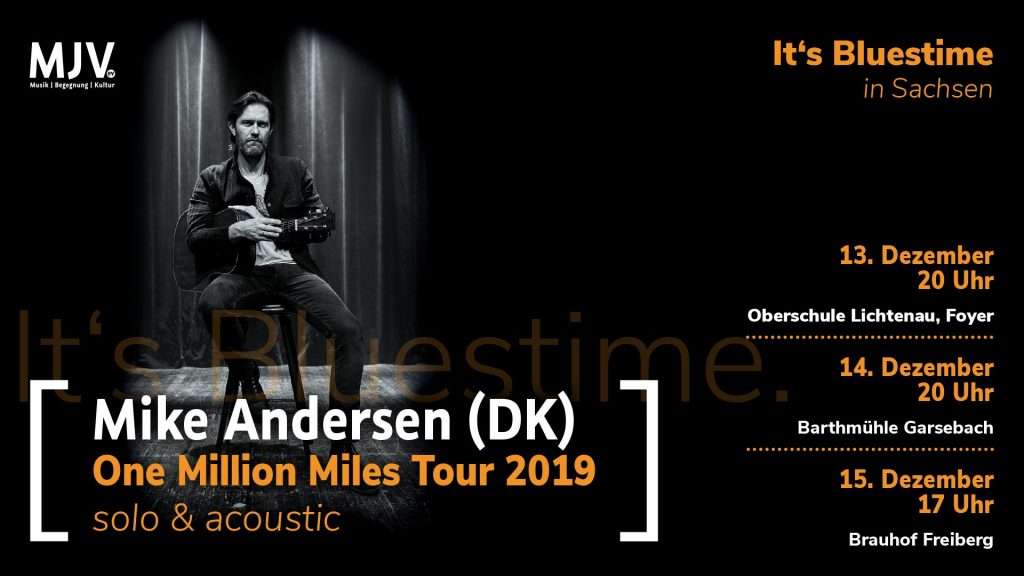 ---
KÆRE NORGE!!!
Vi kommer tilbage til sommer!
Det er en ære og stor fornøjelse at skulle tilbage til legendariske Notodden Blues Festival!
Jeg spiller et akustisk solo sæt lørdag om dagen og så spiller vi med fuldt band lørdag aften!
Vi glæder os!!
Kh Mike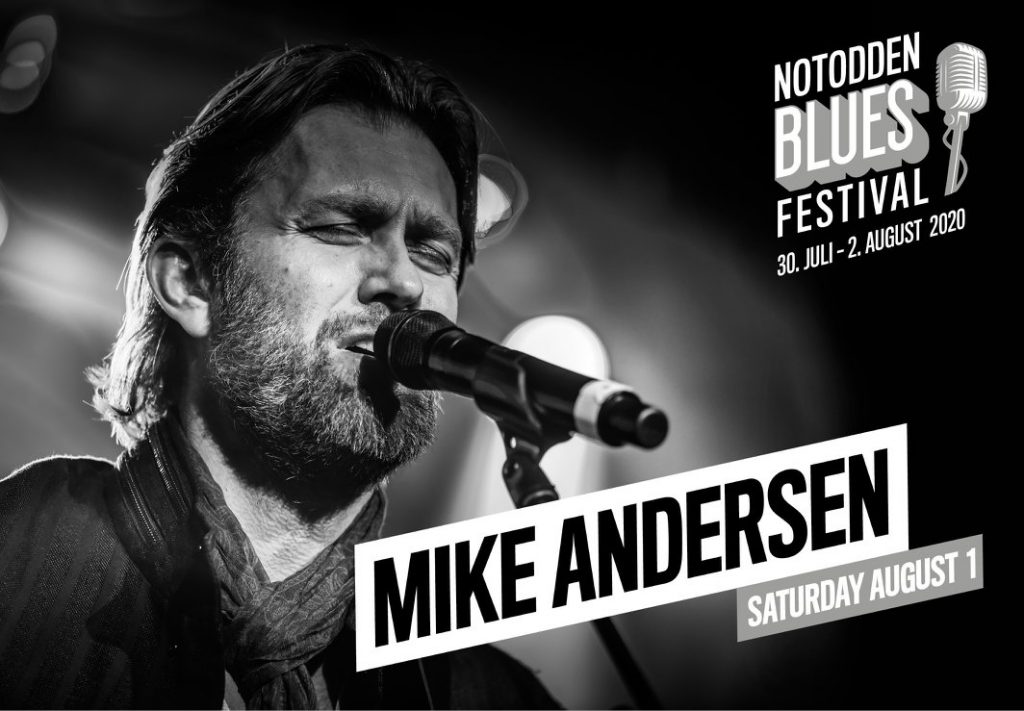 ---
GERMANY!
We've added three shows to my acoustic solo tour.
I'm looking forward to bringing the songs from the ONE MILLION MILES album to te SAXONY region!
Ticket-link for all 3 shows: https://www.eventim.de/artist/mike-andersen/
13.12.19 D-Lichtenau, Oberschule (Foyer)
14.12.19 D-Garsebach, Folk & Blues in der Barthmühle Garsebach
15.12.19 D-Freiberg, Jazz & Blues im Brauhof Freiberg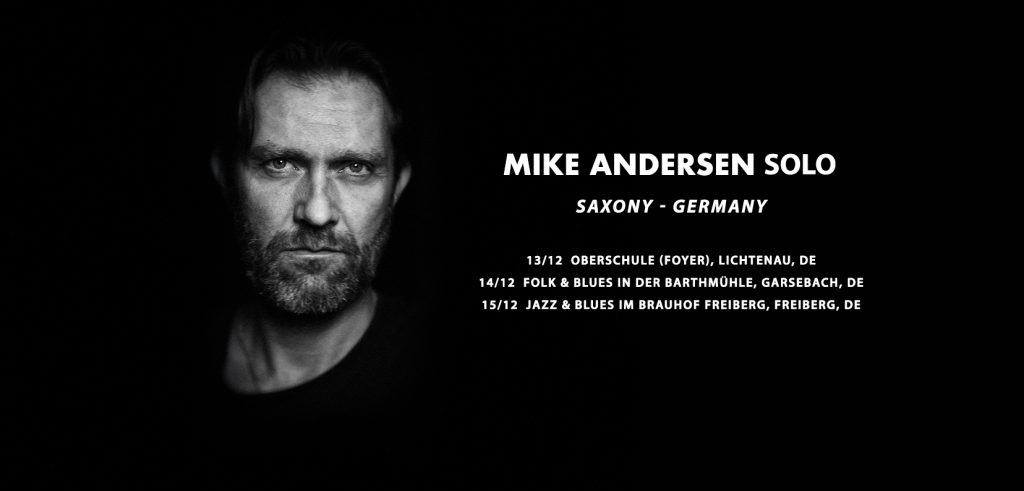 ---
BAND TOUR 2020!
---
BACK IN THE STUDIO / NEW ALBUM OUT IN 2020
---
TAK FOR TUREN!
TUSIND TAK til alle jer der dukkede op på min solo tour!
Det har været intenst at møde jer helt alene! Aften efter aften har jeg oplevet et fantastisk nærværende publikum!
TAK!
Jeg laver en solo tour igen om et lille års tid (September 2020)!
Nu går jeg i øvelokalet med bandet og arbejder på et nyt band-album som kommer i løbet af 2020!
KH. M
video: Frederik Valentin
---
ANMELDELSE AF SOLOKONCERT
Simon Staun fra Fyens Stiftstidende har skrevet en anmeldelse af min solokoncert i Odense i torsdags!
---
INTERVIEW I AARHUS ECHO
Jesper Nyborg fra Aarhus Echo har skrevet en artikel om One Million Miles albummet og turen der starter i aften i Ebeltoft!
---
FREDAGSVIDEO FRA ØVEREN
Om en uge starter min solo-tour! Denne fredag får I et lille kig ind i øveren!
Jeg eksperimenterede igår med at synge og spille igennem en guitar forstærker på de numre som har godt af noget snavs og snask!
ONE MINUTE MORE er en af de sange. Den blev til i Nashville i samarbejde med den fantastiske sangskriver, Gary Nicholson!
Håber vi ses derude i løbet af de næste par måneder!
Rigtig God Weekend!
KH M
Touplan/Billetter:
www.mikeandersen.com/tour-plan
---
ANMELDELSE FRA BORNHOLM
Tak til Bornholms Tidende for de flotte ord…og tak til Michael Friis, Thor Backhausen og Lars Juul for invitationen og en hyggelig eftermiddag!
---
ONE MILLION MILES MERCHANDISE
One Million Miles MERCHANDISE now available from MERCHCITY.COM. Ships worldwide!
https://merchcity.com/?s=mike+andersen&search_id=product&post_type=product&ph=b2b0d6d760de355f9c5cf79c
---

Ships worldwide!
https://merchcity.com/?s=mike+andersen&search_id=product&post_type=product&ph=b2b0d6d760de355f9c5cf79c
"ANMELDELSE" AF TEST-KONCERT
..for at blive klar til min solo tour, spillede jeg for nylig et par koncerter "under radaren" hos Bag Duggede Ruder i Taastrup og CLUB KLONDYKE på Østerbro.
Ivan Pedersen har skrevet disse ord om sin oplevelsen af koncerten i Club Klondyke. (se nedenfor)
Jeg håber vi ses et sted ude i landet når jeg starter turneen i næste uge!
Tourplan/Billetter:
www.mikeandersen.com/tour-plan
KH Mike
Mike Andersen er en elsket gæst i club Klondyke, og naturligvis kom han tilbage, nu han har lavet et album med spritnye sange i den mest nøgne udgave, tænkes kan – nemlig solo i studiet.
Klassikeren: En mand og hans elskede guitar plus et stomp-board (et bræt m. indbygget mikrofon, der kan erstatte en stortromme)
Fuldstændig "on top of his game" leverer Mike (som hedder Mikkel og er fra Røde Kro) ubesværet – med sit effektive guitarspil som fuldfed backing – bluesfunderede sange om livets op og nedture, om smerte, længsel og dirrende kærlighed, så enhver må høre efter OG vippe med tæerne imens.
Det er en fornøjelse at høre en kunstner, der aldeles har fundet sin "ting": Sin vibe, sin stemme og sit udtryk.
Mikes meget rytmiske akkompagnement og "maskuline håndtering" af sin gamle, akustiske guitar efterlader nærmest tilhøreren med en oplevelse af et fuldt band bag ham, og Andersen formåede, med dette no nonsens set-up, at fastholde sit publikum i intens medleven i en god times tid.
Ekstranumre? – naturligvis!
Mike Andersen er en blivende kvalitets-kunstner i sin genre, og vi er vilde med, at han også finder tid til vores lille scene mellem sine mange danske og udenlandske koncerter.
Af Pedersen
---
FREDAGS VIDEO
Som lovet får I hver fredag op til min tour-start, en sang som skal med rundt på solo turen.
Da jeg har startet turen uden for DK allerede, får I denne gang en lille video fra mit hotel værelse i nat.
Jeg holder jeg stadig af at spille den her sang..og den skal også med rundt på turen.
Her en lidt forkortet version…skulle nødig vække resten af hotellet.
Jeg håber vi ses derude!
Kh M
Tourplan/billetter:
www.mikeandersen.com/tour-plan
---
ENDNU EN FREDAGS VIDEO!
Denne fredag får I en ballade: "LET'S JUST GO HOME"!
Da valget i sidste uge faldt på No Time To Slow Down, var dette nummer lige i hælene…kun en enkelt "stemme" efter…
Videoen er optaget i nat i mit lille kælder studie, da resten af huset sov…
God weekend til Jer alle…
Håber vi ses til en af de kommende solo koncerter!
KH M
---
ET SNEAK PEEK FRA ØVEREN!
Tak til alle der har skrevet til mig hvilket nummer fra ONE MILLION MILES de helst ville høre idag!
Det blev "NO TIME TO SLOW DOWN"…i skarp konkurrence med et par andre sange….
Så her er så et sneak peek ind i øveren!
God weekend alle sammen…Håber vi ses derude på et spillested til september/oktober!
Tourplan:
www.mikeandersen.com/tour-plan
---
AARHUS JAZZ ORCHESTRA FEAT. MIKE ANDERSEN
Mike Andersen with Aarhus Jazz Orchestra Playing OVER YOU live at Tall Ships Race Aarhus 2019
---
TAK FOR MODTAGELSEN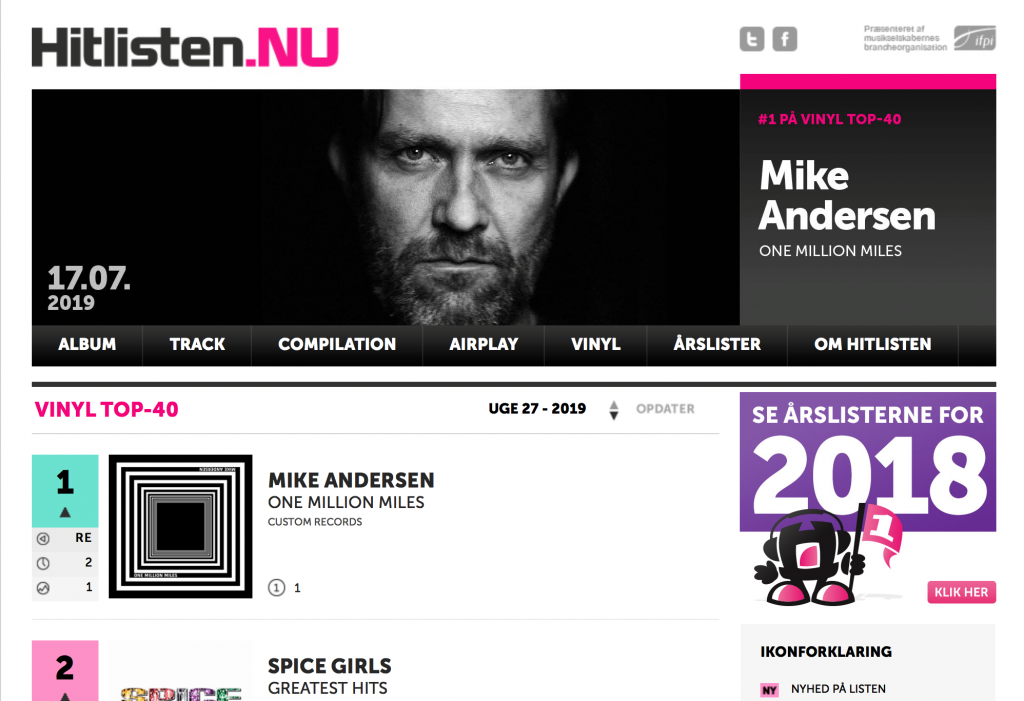 I sidste uge var første gang jeg var ude og møde jer med "One Million Miles."
Jeg dedikerede en lille seance ved vores koncert hos Roots & Jazz på Balders Plads i KBH til albummet, og så havde jeg æren af at varme op for Keb' Mo' i en proppet Amager Bio med sangene fra One Million Miles.
Jeg har kunnet se, at opmærksomheden på diverse streamingtjenester lige siden har været stor – mange af jer har skrevet jeres respons på albummet direkte til mig, og vinylen er røget tilbage på Top40 på en første plads.
Tak for modtagelsen… det er rørende!
Jeg håber vi ses, når jeg for alvor tager på Danmarkstour med albummet i september/oktober!
Indtil da… GOD SOMMER!
KH M

---
NO TIME TO SLOW DOWN
Official Music Video
ONE MILLION MILES
Official Music Video